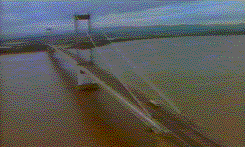 In the night of 27th November 1988 some policemen came upon a girl near a motorway. In a state of confusion she was wandering about near the bridge, aimlessly. Immediately the next day a national 'missing' notice was put out.
The police had picked her up, taken her to the station and asked her several time who she was and where she lived, but the girl did not answer. Since then she hadn't spoken a word and it was thought possible she might be deaf-and-dumb.
A police representative said that the girl, aged between 14 and 18, had been seen in the bridge area before, around midnight. In the hospital where she was taken the doctors did not succeed in getting her to talk.
She was about 5 foor 4, sturdily built, with reddish brown hair and blue eyes, and dressed in alight blue coat with white fur collar, T-shirt and jeans, white socks and black shoes. Her personal description was by then known at every police station and because of that, only one day later the girl was reunited with her parents who lived in Crediton (Devon). They had recognised their daughter steight away from publications.
Now a spokesman said she was absolutely not deaf-and-dumb, nor crazy. She was merely in a deep depression. He said that the parents had identified their 22 year old daughter in a Bristol hospital. they requested that her name not be disclosed.